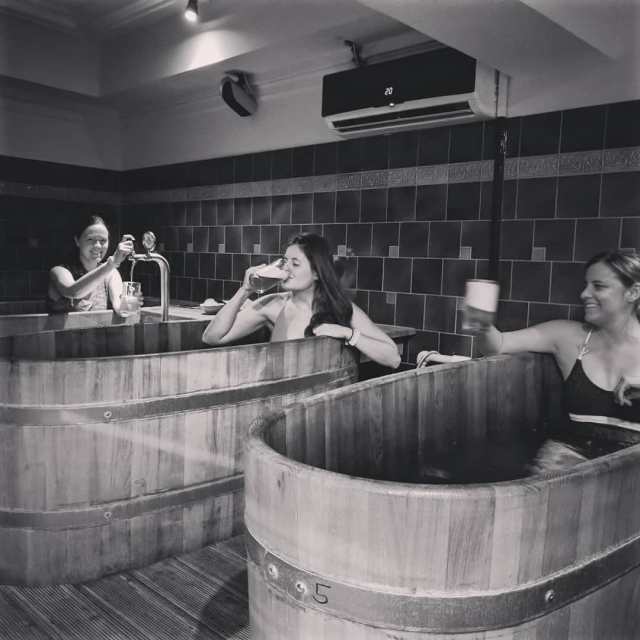 Wondering Oak Wonderer  wandered to the Thermal Beerspa Budapest to try out our unique experience and wrote this amazing review. If you are over a long trip in Europe this blog post is for you.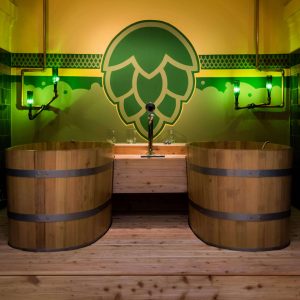 I saved this experience until the last day of my trip in Europe and it was definitely the best way to end it. After walking miles and miles of cobblestone streets, up stone towers and crowded halls my feet were dead and my mind tired from culture overload. Needless to say a relaxing spa sounded great. Of course this is no normal spa, the Szechenyi Spa Baths of Budapest are infamous and their largest attraction boasting 18 pools inside and out of varying temperatures of natural hot spring waters that are said to be medicinal. They have been enjoyed by Hungarians and tourists alike since 1913, the thermal beer spa however is a rather new addition.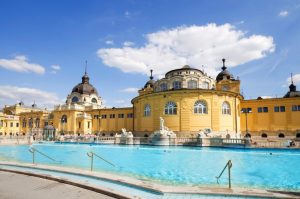 Conveniently, the thermal beer spa is located within the Szechyi baths. Now let me first clarify it is not actual beer you are bathing in! No, rather it is the natural spring water then mixed with some beer ingredients, however it is just as awesome. We arrived in the afternoon, myself and two other girls I was traveling with. The friendly staff, clad in their green apparel sporting #beerspa showed us to our "cubby," now we got a combined pass so we had one full day access to the Szchenyi baths and a 45 min. beer bath session which came out to about $60 each, prices can vary and we had it so we each had our own tub although you can choose to share.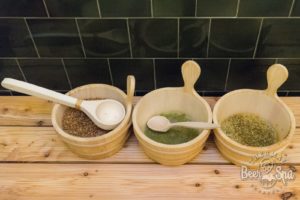 One of the staff members then lead us inside there were 4 wooden bath tubs, one passionate French couple was at the end and the 3 others were for us. She showed us a basket with a couple ingredients and explained that they supposedly did something for your skin (honestly I can't remember malt and something, I was too excited!). I will say my skin did feel nice and soft after. She used a large wooden spoon to mix them in the steaming tubs, we looked at each other, grins across our faces in anticipation. Oh, right the best part, between each tub are taps and mugs, so you can drink AS MUCH BEER AS YOU WANT, for the time of your soaking. To answer what some have asked me, no it is not connected to the tub (that would be gross), its regular beer from a keg and we were pleasantly surprised at its quality, certainly lighter but still robust and flavorful.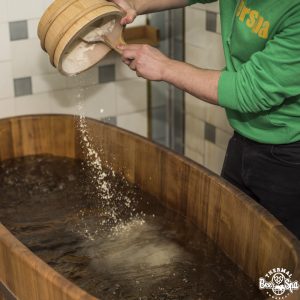 The staff member closed the wooden spa door explaining to some meandering tourists that they like their clients to have privacy. We looked at each other and smiled and joked of our "VIP" status, pretending we were celebs in our little spa baths, soaking in the warm, soothing water and sipping our pints. They brought in some snacks as well which were simply slices of bread with seasoning, but hey it was unexpected and a nice added touch. The worst part naturally was when it ended, we were asked to literally "pull the plug," we moaned wishing we could stay longer. At this I quickly turned and refilled my mug to the top…hey  I have to get the most bang for my buck alright, no judgement! She let us finish our beers in the wooden seated sauna like waiting area cause you know I just so happen to have a lot leftover!…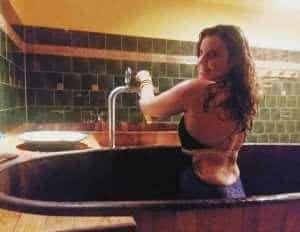 Afterwards we joined the masses in the overcrowded spas which were fun, but also way too many people for our liking. We were very glad to have had some quiet, relaxing time soaking in  beer suds.
source: https://wanderingoakwonderer.com/2018/08/25/beer-spas-of-budapest/