We are happy to introduce that Thermal Beerspa Budapest got listed in CNN Travel's top to do's list when visiting Budapest.  Here, we've compiled the ultimate wellness guide to help you navigate your way around the best spa and wellness activities available when you travel to Hungary's capital city.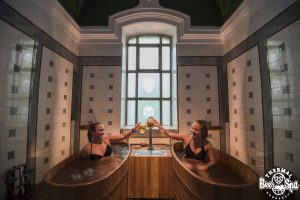 Thermal Beer Spa at Széchenyi Bath
Situated in the heart of the City Park, Széchenyi Baths houses a Beer Spa that offers a unique experience.
Visitors are treated to 36-degree hot water baths mixed with minerals and natural extracts used for beer brewing — hops, yeast, malt and barley.
This quirky therapeutic offering is delivered in six bath tubs, which can be used individually or with a friend.
Local beer is also served as an accompaniment to make the experience even more memorable.
To enter the Beer Spa, guests can either pay for entry to Széchenyi Baths, then book an extra ticket to the alcohol-fueled bath tub area, or book an independent ticket to enter the Beer Spa."
The baths also boast 10 indoor pools, an exquisite outside bathing area, saunas, steam chamber and massage rooms, with a number of other treatments available upon request.
Admission fee to Széchenyi Baths is around $21 on weekdays and $22 at weekends. The additional Beer Spa admission fee is $25 for one person, $30 for two.