We are happy to announce that we made it  in the top  six beer spas  around the globe .
Since beer is a popular beverage while traveling this unique way of enjoying it could be the new bucket list activity.  It doesn't really matter if you are on a romantic gateway or on a short trip with friends, visiting the Beerspa could be good for your health, and of course lets not forget about the mood lifting effects as well.
In the Eastern-European region the Czech Republic is famous of it's beer so no wonder they made it in the top six.  So lets have a glimpse what they offer:
Prague, Czech Republic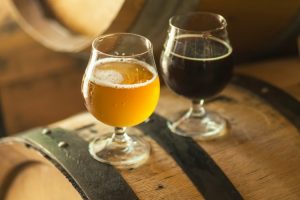 Who knew beer could be so good for you? The Original Beer Spa Prague offers a unique combination of beer-based spa experience and tasting all in one. You'll get to soak in traditional wooden tubs full of real Czech hops and herbs while sipping on unlimited supplies of pilsner lager from your very own personal tap. Which will make you woozier, the bath or the beer?
Cool tip where to stay:
 Set in an elegant historic building next to the Charles University, Prague Centre Plaza offers a cozy spa with a large sauna, a hot tub and a salt cave. The on-site Prague Beer Spa Bernard features large wooden tubs designed for two people, where you can cool off and benefit from the healing ingredients of beer while sipping a refreshing Bernard beer.
Budapest, Hungary
In the heart of Europe Budapest famous of it's spas has one hidden gem in Szechenyi Thermal Bath.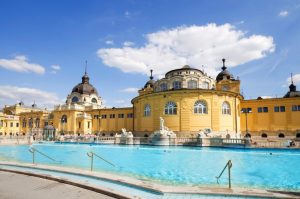 Set amid the greenery of City Park, the spa's palatial Neo-Baroque building offers the royal treatment with 15 indoor baths and three outdoor pools to choose from. Also part of this spectacular spa is the Thermal Beer Spa, home to six wooden tubs that are filled with warm thermal water and natural beer ingredients so guests can rejuvenate themsleves and feel like a new person.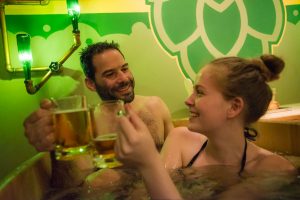 Tip where to stay while your visit:
Located in a classic 19th-century building at the entrance of The City Park, the Mirage Medic Hotel offers elegant rooms in the center of Budapest. You can savor a pint of beer while enjoying stunning views of Heroes' Square.