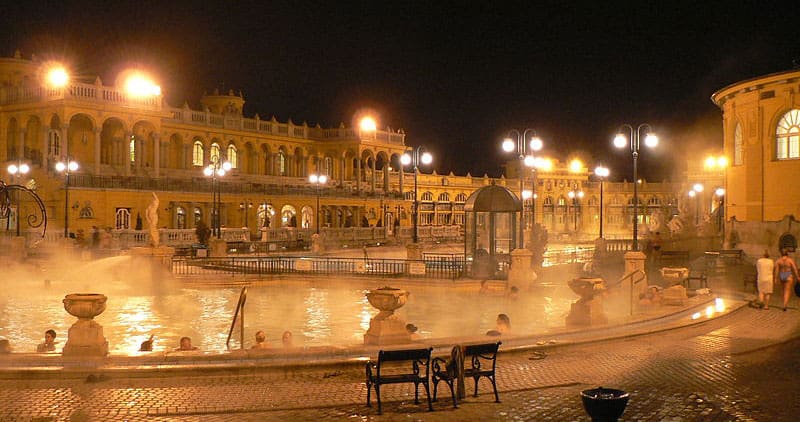 Natalie of Love and Road suggests a visit to the city's most popular baths:
No trip to Budapest is complete without a dip or two in one of the city's famous thermal baths. If you have to choose one, I recommend the iconic Széchenyi Thermal Bath.
One of the biggest spa complexes in Europe, this was the first bath to open on the Pest side of the city. The building itself is stunning. From the outside, it looks like a palace, and inside you will find 21 swimming pools, a sauna, massage, a restaurant and a cafe.
But the outdoor pools are what make Széchenyi one of the top places to visit in Budapest. Whether it's winter or summer, the outdoor area is made magical by stunning architecture, warm pools, chess tables, and everything you need to relax, even if you are surrounded by hundreds of other people.
The bath is open daily, for women and men, from 6 am to 10 pm. Price ranges from 5,900 Ft ($20 USD) to use the facilities to 2,000 Ft ($7 USD) for the tour but no swimming. My advice? put your swimwear on and spend at least a couple of hours there. You won't regret it.
Soak In a Thermal Beer Spa
Also, attached to the Széchenyi baths is the Thermal Beer Spa, where you can soak in a bubbling bath of actual beer ingredients, including malt, hops and yeast.
The beer spa is said to help rejuvenate your skin, reduce the appearance of acne and cellulite, and clean your pores. It also provides vitamins, sugars and proteins that help your body release muscle tension and can even reduce stress, improve blood circulation and eliminate damaging substances as well as increasing heart activity.
Also, it's said to be a hangover cure!
And, while you soak, you can enjoy a tap of ice cold beer with all you can drink beer during you spa session!
Be sure to note, though, that this beer spa requires an additional ticket purchase.
Source: https://foodieflashpacker.com/best-things-to-do-in-budapest/